Gacha Life Character Creator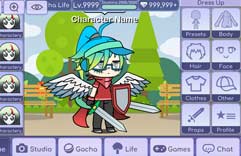 Views:

0
Gacha Life Character Creator
About Game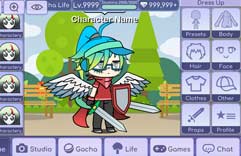 For gamers who don't want to pass difficult mini games, film unique videos and talk with NPC, we offer the Gacha Life Character Maker – amazing game, where you are able to customize your avatar as you wish.
How It Works?
Everything is so easy, that every new player will understand. First of all, like in other Gacha Life, you should begin from choosing between boy and girl. Then, design the details of their faces, such as eye and skin color, blush, lips, lashes, brows and facial expression in general.
There are various options. You can design look exactly you need. Next step is to decide about the hairstyle. Tons of hairdos is presented here – choose between short and long, blond and black, not dyed or colorful, flowing or tied up in cute ponytail hairs. Don't forget about the fringe, it can be full, side or choppy. Every length, color and hairstyle is available for you.
After you figure out what haircut is for you, let's go to the most interesting part of the game – dress up. Gacha Life is famous for huge amount of outfits, presented in the game. We recommend you to first pick up the style: modern, sport, magical, military and so on.
Then, based on this, begin searching for suitable clothes. You are able to find miniskirts, sporty t-shirts, elegant suits, cute crop tops, jeans shorts and classic trousers. Ones you have finished, take a look on our awesome accessories, decide which of them will fit to your stylish look.
Who can I make?
You are able to do whatever you want here: make famous people, for example, Hatsune Miku or the whole BTS band, create cartoon heroes, Rapunzel, Fox Girl or others, or simply customize your personage as yourself and dress like you wish. You also may pick up one of the finished avatar like 1chi or Mo.
After this actions you and other gamers have to attend the fashion show in real time, assess other personages and receive a reward if you made the best one.
Character Creator is for everyone, who wants to try yourself as fashion designer. So, if you belong to this kind of people, lets play.